Philosophy
Our tagline is "Your Complete Backyard Solution" because after completing hundreds of projects, we realized that many clients' needs are best served by examing the backyard as a whole-how it's used and who uses it most-and creating a design plan that really makes the yard "work" in a whole new way. In other words, we don't limit ourselves to just decks or just patios so we'll often combine the two to create a distinctive flow to the backyard that's conducive to entertaining, relaxing, playing or whatever you desire.
Upon seeing a preliminary design, after the "Wow", the next thing we usually hear from clients is "We never even thought about doing it that way." That's music to our ears because that's hopefully one of the reasons they chose to work with us!
From basic decks and patios to complex backyard makeovers with fire pits, lighting and landscaping, you can be assured you'll always get the same attention to detail and our commitment to quaility.
We cater to clients demanding superior service, design, installation and quality for their projects. We handle all aspects of the backyard design and building process from consultation, permitting, construction and clean-up. Our clients appreciate the fact that we are extremely detail oriented and do not take shortcuts.
Why We Specialize

Contractors are just like doctors in a sense. There are general practitioners that can handle a little bit of everything, but they aren't trained and do not have the background and experience to handle specialized cases for the most part.

Consider us like a doctor who specializes in an single aspect of medicine. Let's say you need intricate back surgery because you have an uncommon ailment. Would you go to just any doctor with a scalpel, or would you go to THE back specialist doctor who has proven track record of repairing this injury time and time again?

Bergen Decks is the specialist you have been looking for because creating beautiful outdoor spaces is what we do all year round. While some contractors prefer being jacks of all trades, with all there is to understand about modern outdoor construction-from materials to techniques to best practices, you will benefit from our concentrated focus on doing one thing and being the best we can be at it.


Background

Bergen Decks was spawned by Greg DiBernardo initially as a specialized segment of the successful remodeling contracting company he was operating for two main reasons. The first was to satisfy his lifelong passion for designing and building decks. The second, and perhaps more important reason, was to ensure that homeowners in Bergen County had a knowledgable and reputable deck builder they could rely on to build safe, strong and long lasting decks using contemporary manmade materials that each have their own nuances, advantages and disadvantages. Building today's modern decks is complicated by products and techniques. Make no mistake, not every contractor with a truck and saw is fit to design and build a deck these days. Deck building is highly specialized niche of the construction industry and we take it very seriously.
Credentials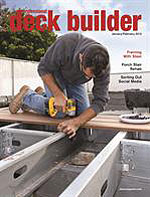 Bergen Decks takes pride in being highly regarded in and around the deck industry. Getting to this point is the result of steadfast dedication to the becoming the best we can be.
Greg DiBernardo is a nationally recognized deck builder that is a frequent contributor to the trade journals other contractors read such as Professional Deck Builder, The Journal of Light Construction, and Tools of the Trade. His expertise is frequently tapped into by the media, citing his knowledge as a source for numerous articles that have appeared in The Record newspaper in northern New Jersey, in trade publications and online.
Greg's national notariety as a deck and outdoor specialist has also landed him several television appearances on the DIY Network, Extreme Makeover: Home Edition and House Smarts.
Most notably, Greg serves as a research and development consultant for many of the top companies in the deck and outdoor industry. Manufacturers across the country utilize Greg's expertise to create new products like deck boards, railing systems, fasteners, and even tools. This behind the scenes work directly benefits Bergen Decks' clients by leveraging Greg's personal relationships with the movers and shakers within the industry to make a direct connection between the manufacturer and your project. At Bergen Decks, we don't have to call anonymous 800 numbers for manufacturers' warranty support hotlines for service---we just call the CEO!
Certifications & Accreditations

TimberTech Certified Gold Contractor
Azek University Graduate
Fiberon FiberPro
Trex Pro
Upper Fortress Installer
North American Deck and Rail Association (NADRA)
Start Your Project Today!
Help us help you. The fields in red are required
Top Features of a new Bergen deck:
Web-based project management
3D Design and rendering
All plans and permitting
Engineered helical piers instead of concrete footings
Steel Framing instead of unstable wood
Hidden Deck Fasteners
Strong and safe staircases
Years of future enjoyment!